Restaurants and restaurant chains
Running a restaurant should be easy and effortless. Based on the need for simplicity we have developed Trivec's restaurant POS to be a perfect fit for restaurants. You get a POS-system that supports your entire business; from bookings, table management and ordering to the logistics, such as kitchen processes, inventory and payments. We have been helping leading bars and restaurants since 1993 with their logistics and payments.
Easy to use POS-system built for restaurants
Trivec's restaurant POS is intuitive and easy to use without needing technical knowledge. The system is optimized for as few click as possible to save time and minimize mistakes. There is a built-in calculator to help you keep track of inventory. All cash registers are connected so you have a common view on what is happening in the restaurant, but the staff only need to see what is important for them and their workstation.
Read more about our POS system for restaurant.
Having local support is important, but we also want a POS system that evolves and grows over time, offering smart tech solutions for restaurants to enable our staff to spend more time on guests. With Trivec, we found that solution.
- Anders Winblad, Chief Operating Officer at Nordic Restaurant Group
Hard Rock Cafe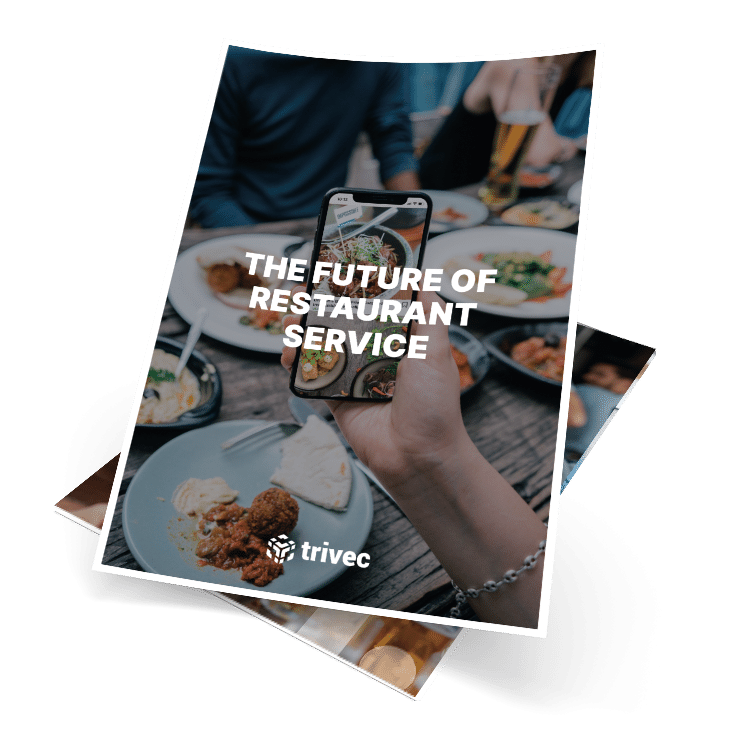 Increase the level of service using smart tools
Download our guide "What does the future restaurant look like" and get concrete tips on how you can attract new customers to your restaurant. By developing an online presence and by using digital tools more smartly you can streamline the order- and payment flow to increase profitability.
Offer your customers a payment method they prefer
We cooperate with local vendors in the countries where we are represented. In the Nordics we have a close cooperation with Nets, and we can offer card terminals that are completely integrated within our POS system and fully comply with all the payment service providers' requirements for security. All card terminals are compatible with Chip Express, NFC, tipping options, the ability to split a bill across multiple cards, Apple Pay, and Samsung Pay.
Take payments and orders at the table
Trivec HandyPay is our handheld pos, our mobile order and payment solution that allows you to take orders and payments at the table. Our all in one terminal. Orders are instantly sent to the bar and kitchen, guests can easily pay when they ask for it. You minimize the time spent running back and forth from the tables.
Guests can order and pay with their mobile phone
With our solution Trivec Buddy you can enable your customers to order from a digital menu and be served while remaining at the table. A great complement that makes it easier for both customers and your staff. Trivec Buddy is a web-based product for mobile ordering and payment.
Boost performance in the kitchen
Trivec Display is our Kitchen Display System (KDS) where you can track and organize your orders to the kitchen, bar, pastry corner and other workstations. After the waiting staff has taken an order it will automatically be sent to the right screen in the bar or kitchen.
Manage multiple restaurants
For restaurant chains and resorts we have a HQ-tool which is very powerful when running multiple restaurants, bars, cafés under one brand. You decide what authorization should be local and what should be controlled centrally. Maybe you like to control the menu options and the prices centrally for all venues and only the restaurant manager is authorized to change this locally. The tool is very flexible. You can set up reports to measure your different venues to be sure they are all profitable. We will help you to tailor the solution after your needs.
Increase efficiency with reports and analytics
With the web portal My Trivec, you get access to all relevant data related to your restaurant in an easy to use dashboard. You see sales numbers in real time and can easily get customized reports. No matter where you are, you are in control of the restaurant. You can add services to My Trivec and expand to your needs.
Smart integrations that give you a complete overview
Trivec has a large partner eco-system with integrations to make it easier for you to run your restaurant. We maintain contact with all partners so that you can focus on your business. The integrations give you a good overview of your entire restaurant and help you with integrations for staff, finance, stock, analytics and many more.
Support and on call service 24/7
Our service technicians have a wide product knowledge and extensive experience in the restaurant industry. We help you with both installation and support and on call service 24/7 to ensure that your Trivec solutions work as it should.
Customers we are working with:
Contact us
After you have filled in your contact information, you will be contacted by one of our knowledgeable experts who can tell you more about our solutions.