Fast food
We know that guests who are visiting fastfood businesses are looking for speed and convenience more than a remarkable dining experience. For you who operate in this niche we have a selection of solutions which fit your needs for speed and efficient logistics. Our POS system for fastfood is quick and reliable.
Easy to use POS-system for fastfood
Trivec's POS-system is intuitive and easy to use without needing any technical knowledge. The system is optimized for as few click as possible to save time and minimize mistakes. There is a built-in calculator to help you keep track of inventory. We are offering our POS-solution with different hardware depending on your need. You can have it as a tablet solution or a more traditional (stationary) hardware.
Self-service kiosks
Our self-service kiosks are interactive tools that give your guests and easy access to your menu and promotions you have on display. The kiosks are easy to use big with screens where you interact with the screen to order and pay. Self-service kiosks reduce wait times, engage guests and make the ordering process fun by facilitating more informed choices by displaying ingredient lists and substitutions.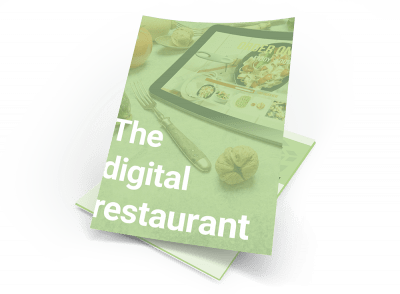 Tips on how to work more digitally and increase profitability!
Download our digital guide and get concrete tips on how you can attract more customers to your business by using digital tools. You also get tips on how to streamline logistics and how to increase profitability. Do not miss this!
Mobile ordering and pick-up
With our solution Trivec Buddy you can enable your customers to order and pay by using their mobile phone. They scan a QR-code with their mobile and get directed to a digital menu where they order and pay. You can have the QR-code both on-site in your restaurant or food truck, and online on your Facebook page, website etc. They either pre-order the food and come by and pick it up or they order when they arrive and wait for the order to be ready.
Paging system for efficient queuing and pick-up
With a paging system you avoid long lines and large crowds during peak mealtime. Your guests can wait for their food at their table, outside or take a short walk. The paging system we offer are integrated with our POS-system. Which means when you get an order, the order goes directly to the kitchen printer or Kitchen Display System (KDS) so your kitchen staff can start preparing the meal. And at the same time, you hand out the pager to your guest. Once the order status has changed to prepared, the pager is triggered to inform the customer that his or her order is ready.
Boost efficiency and speed in the kitchen
Trivec Display is our Kitchen Display System (KDS) where you can track and organize your orders to the kitchen. When you get an order, from your self-service kiosk, mobile order or over the counter order, it will automatically be sent to kitchen screens and your chef's can start to prepare the food. If you are connected to delivery vendors such as UberEats, Foodora etc. these orders will also go directly to the screens in the kitchen.
Manage multiple fast-food venues
For managing multiple fastfood restaurants or foodtrucks we have a HQ-tool which is very powerful when running multiple venues. You decide what authorization should be local and what should be controlled centrally. From the menu and prices to special offerings you have total control. The cash register and card terminals are very flexible, and we will help you to tailor the solution after your needs.
Analytics and reports
With My Trivec our web portal you get access to all relevant data related to your restaurants and sales outlets in an easy to use dashboard. You see sales numbers in real time and can easily get customized reports. No matter where you are, you are in control of your business.
Support 24/7
Support is available 24 hours a day with experienced staff always on hand to ensure that your Trivec solutions work as it should.
Customers we are working with:
Book a Demo
After you have filled in your contact information, you will be contacted by one of our knowledgeable experts who can tell you more about our solutions.