Hotel and hotel chains
Integrated POS
The restaurant and the bar at a hotel are key to keep the guests at your venue and being able to engage with them. We believe it should be easy to run a professional restaurant and have developed Trivec's POS system to be a perfect fit for restaurants and bars in hotels. You get a a professional hotel and restaurant software that supports your entire business; from table bookings, table management and ordering to the logistics, such as kitchen processes, inventory and payments.
Integrations to the most popular PMS-system
To be able to give your customers and easy experience when it comes to paying in the restaurant and the bar in your hotel, our pos system hotel have integrations to the most popular PMS-system. Which means that your guests can put their bill on the room and pay when they check-out. Many guests prefer and expect this service today. We can for example connect to PMS-systems such as Protel, Opera, Mews, Itesso, see the complete list here.
The most important factor was that Trivec showed a genuine interest and a commitment to making the POS system hotel and the whole solution work for us. We got a system customised for our needs.
- Thommy Backner, CEO of Scandinavian Resorts
Scandinavian Resorts
Increase customer service at the table
To be able to give your guests the best possible service in your restaurant we have developed Trivec Handy. Handy is our mobile order solution that allows the waiting staff to take orders at the table and instantly send them to the bar and kitchen. You minimize the time spent for your staff to run back and forth from the tables to the point of sale system. Instead they can spend time with your guests.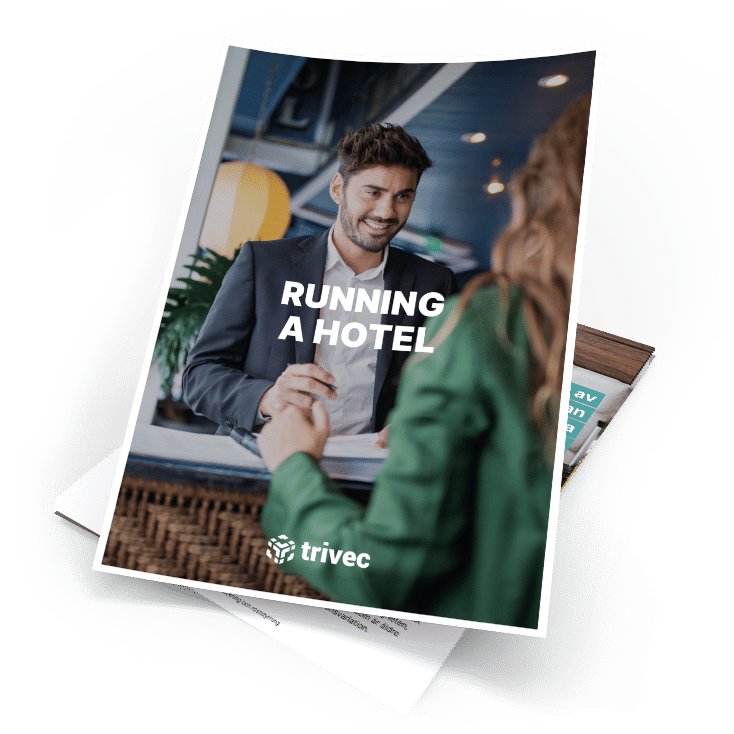 How to run a profitable hotel?
Are you interested in digitizing your hotel and at the same time increasing profitability? Download our digital guide and learn more about how you can work more digitally and attract more guests to your hotel. Download our white paper for 3 big trends?
Use our mobile order solution for room service and in the bar
With our solution Trivec Buddy you can enable your customers to order and pay by using their mobile phone. They scan a QR-code with their mobile and get directed to a digital menu where they can see your digital options. This can be used for room service, or in an outdoor seating area, by the pool, in the bar etc. A great complement that makes it easier for both customers and your staff.
Boost performance in the kitchen
Track and organize your orders in the kitchen, bar, café and other workstations by using our digital kitchen screen Kitchen Display System (KDS). When the serving staff has received an order, it is automatically sent to the correct screen in the kitchen or workstation for which it is intended.
Manage multiple hotel restaurants, chains or resorts
For hotel chains and resorts we have a HQ-tool which is very powerful when running multiple restaurants, bars, cafés under one brand. You decide what authorization should be local and what should be controlled centrally. Maybe you like to control the menu options and the prices centrally for all venues and only the restaurant manager is authorized to change this locally. The cash register tool and credit card machines are very flexible. You can set up reports to measure your different venues to be sure they are all profitable. We will help you to tailor the solution after your needs.
Read more about ur POS systems for restaurants.
Increase profitability with our pos sytem hotel
My Trivec is our web portal that gives you access to all relevant information related to your various restaurants. The portal is an easy-to-use instrument panel where you can see sales figures in real time and easily create and receive customized reports – just the way you want them. You can also create subscriptions to receive daily sales reports directly to your inbox.
Use self-service and set-up a beer wall
Build your own beer wall using our self-service dispensing system. Your guests will serve themselves and you can have them pay by card or using a hotel bar card and pay when they check out. We have a good example of this with the hotel chain Jo & Joe in France.
Smart integrations for running hotels
We have a large partner eco-system with integrations to make it easier for you to run your hotel or hotels if you are a larger chain. We have integrations for managing staff, finance, stock, deep analytics and much more.
Support and on call service 24/7
Our knowledgeable service technicians are available around the clock to help you with everything from support and installation to acute malfunctions and deviations. We are here to help you and ensure that your Trivec solutions work as they should.
Customers we are working with:
Contact us
After you have filled in your contact information, you will be contacted by one of our knowledgeable experts who can tell you more about our solutions.