Analytics
To not use restaurant analytics and data insights for optimizing your restaurant business would be foolish. Data is changing the way the restaurant industry works. And it's important to keep up. With our web service My Trivec, you get access to sales figures from your restaurant, you can for example see which goods you have sold mostly of and what your guests spend on average. You can also connect a business analysis system to your business and do even deeper analyzes.
My Trivec – access all relevant data from your restaurant
With our web service My Trivec, you get access to all relevant data related to your restaurant in an easy to use dashboard. You see sales numbers in real time and can easily set up customized reports.  No matter where you are, you are in control of the restaurant. You can add services to My Trivec and expand to your needs.
Keep track of average ticket size per customer, most popular dishes and more through the data available through the POS to make better menu and pricing decisions.
Integrate your Trivec POS-system with Business Intelligence tools
If you like to take your data insights a few steps further we have a large eco-system of partners and integrations, and some of them are working with analytics and BI. You see all our partners here. With the help of our BI/analytics partners you can look into labor costs, menu engineering, predictive analysis, budgeting, forecasting and much more.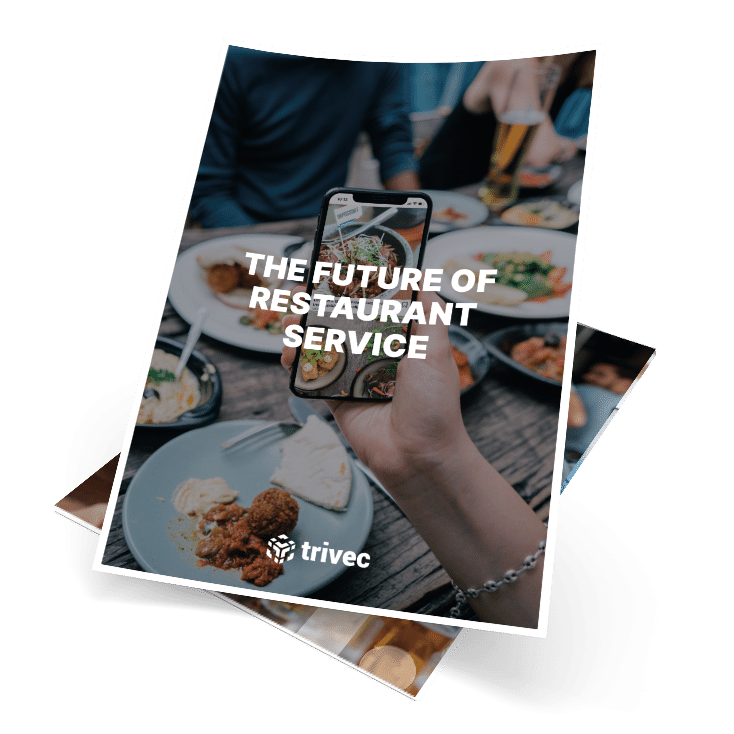 Increase your turnover with the right tools
Download our guide "What does the future of restaurant look like" and get concrete tips on how you can attract new customers by changing the way you work. With a higher online presence, smart digital tools and a smooth order- and payment flow you can increase profitability.
Use analytics to minimize labor costs
Your staff is of course a big cost in operating a restaurant, so to be on top of your labor costs vs your sales is super important. To identify slower shifts where fewer staff is required is something analytics can help you with. Insights could also help you to be more strategic and quicker with your schedules and let you know what you should spend in average on labor costs.
Increase your profit with menu engineering
Use your restaurant data to decide what menu items you should keep, which dishes need to be re-introduced, and what meals should be considered for promotions and discounts.
Menu engineering focuses on two main elements: demand and margin contribution. It helps you determine whether menu items are overpriced or underpriced, whether you need to revise recipe portions or ingredients, and monitors menu performance. It allows you to make informed decisions about popularity versus profitability.
Fill empty chairs and tables with the help of analytics
Every empty chair and empty table represents a lost revenue opportunity for you. Analytics can help you understand and take the right actions to prevent empty tables. You can look at your no-show rates, are they very high? What can you do to prevent no-show? To be clearer when they book the table, or when they call to make the reservation. You can investigate when you have your off-peak times and decide if you should run special offers or discounts to fill up the tables during these times.
Predictive analytics important for restaurants
Predictive analytics make use of historical data to predict future trends and outcomes. With help of historical data points, you can make your business more profitable. You can for example make more accurate scheduling, order the right amount and type of articles, minimizing your food waste and much more.
Contact us
After you have filled in your contact information, you will be contacted by one of our knowledgeable experts who can tell you more about our solutions.