Hard Rock Cafe
A future-proof POS system with local support
"Avenyn" in Gothenburg is not only the city's main boulevard, is also a popular destination for dining and nightlife. Three of the largest restaurants, Hard Rock Café, O'Learys and Joe Farelli's, are practically neighbors in this busy street. Between them, the restaurants have 630 seats and on a typical Saturday, they serve about 1,500 guests.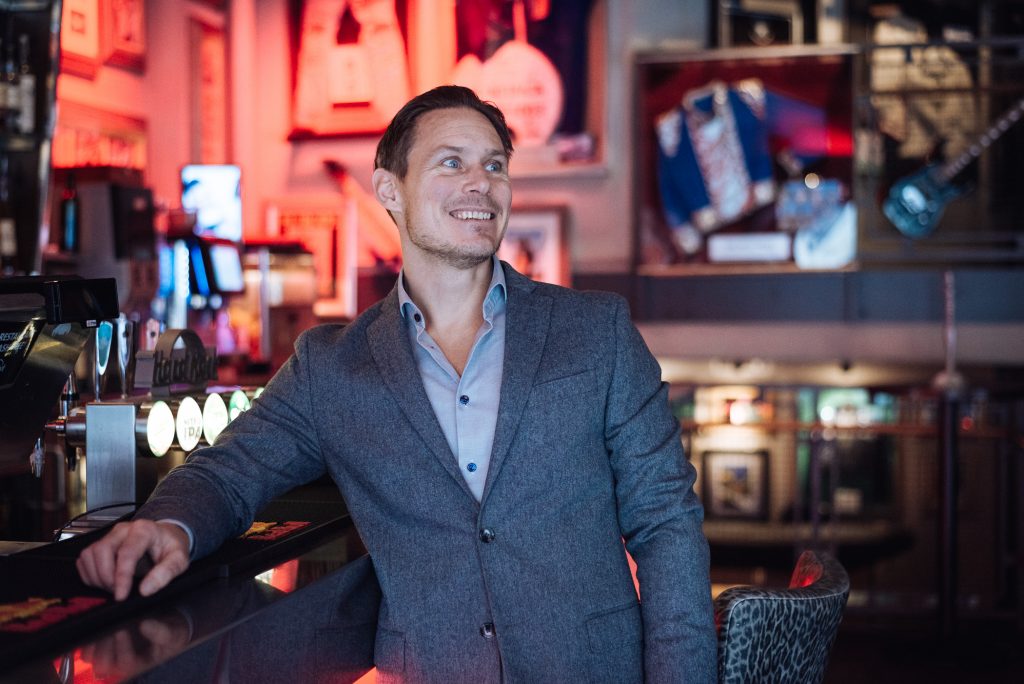 The establishments are all operated by the same company, Nordic Restaurant Group, which also runs Hard Rock Café franchises in Stockholm, Helsinki and Oslo.
Nordic Restaurant Group had for a long time relied on a POS system which by and large worked well. But the relationship with the vendor became troubled. The Swedish language support line closed, which meant that significant knowledge about the local market also was lost.
Increasing support requirements
Nordic Restaurant Group had made an organisational change which also meant new requirements on IT support. The company used to have an employee with IT operations duties, including management of the POS system and providing internal support for simple matters.
We wanted to spend less internal resources on IT, which meant changing the roles. The restaurants would then need more support from the vendor," says Anders Winblad, Chief Operating Officer at Nordic Restaurant Group.
Against this backdrop, Nordic Restaurant Group glanced at a new POS solution. The basic requirement was that local support should be available at all times. And just as before, the POS system should be implemented across the enterprise and managed centrally. This way, many administrative tasks, such as updating menus, can be managed for all business units without duplicating efforts.
Having local support is important, but we also want a POS system that evolves and grows over time, offering smart tech solutions for restaurants to enable our staff to spend more time on guests. With Trivec, we found that solution," says Anders Winblad.
Central POS with integrations
Trivec could offer a centralised POS system that Nordic Restaurant Group was looking for, including the required integrations. Trivec had first entered Nordic Restaurant Group in 2012, when the company opened the O'Learys sportsbar in Gothenburg. The positive experiences from this, together with the realisation that Trivec offered a solution which would suit the entire company, proved decisive for the selection.
As customers, it is clearly easier for us to work with Trivec than with our previous vendor. An added advantage is that many of our newly hired employees already know their system, as it is found in many other places," says Anders Winblad.
Initially, Nordic Restaurang Group has installed Trivec in their Swedish Hard Rock Café and Joe Farelli's restaurants. During migration, kitchen monitors were installed to replace conventional printed receipts.
Next in turn are the Hard Rock Café restaurants in Norway and Finland. Anders Winblad expects no language issues from these deployments, as the company's internal processes and systems already use English to a great extent.
About Nordic Restaurant Group
Operates Hard Rock Café franchises in the Nordic region, and the O'Learys and Joe Farelli's restaurants at Avenyn in Gothenburg. The company employs about 350 people, with annual sales of SEK 280 millon at their six business units. Four of these use Trivec's POS solution, with 31 cash registers in total.
About Trivec
Trivec is a leading supplier of POS systems to restaurants, bars, hotels and cafés on the European market. Our solutions simplify business operations and optimize payments. Trivec's product offering includes cash registers, card terminals, handheld units, kiosks and beverage systems, with flexible integrations to booking, finance, personnel, purchasing and storage systems. Founded in 1993, Trivec has over 8,000 customers around Europe and offices in Sweden, Norway, Denmark, Belgium and France.
Contact us
After you have filled in your contact information, you will be contacted by one of our knowledgeable experts who can tell you more about our solutions.