Bar and nightclub
Trivec integrates POS-system with beverage system
We at Trivec have a unique offering towards bars and nightclubs where we combine a modern POS system for restaurants with our beverage systems. Giving you the possibility to increase your revenue and minimize waste thanks to precise portioning and better control of sales and your stock. And you will save thousands of euros with minimized wastage in the bar.
We have been helping leading bars and restaurants since 1993 with their beverage systems and payments.
Give fast and accurate service in your bar
To be able to give your guests fast service is very important in a bar, it increases the number of drinks you can sell per bartender and minimize the time guests must stand and wait. We at Trivec have multiple solutions on how to increase the speed of your bartenders. By using our beer taps or beer dispensers and alcohol guns or our alcohol dispenser for the most popular drinks your bartenders can serve many guests at the same time. We have a wide range of beverage systems which help you become more effective in your service and minimize wastage.
I would recommend Trivecs POS solution for bar to every beginner in the hospitality business, especially if you own a bar. As a beginner it might seem like a big investment, but in about a year's time you'll have earned it back. You would be baffled by how many drinks remain unpaid for otherwise. Thanks to the automation you're not missing out on that income.
- Thijs Berben, Manager of Versuz
Versuz
Easy to use POS-system for bar
Our POS-system for bar is optimized to as few clicks as possible, so you can serve multiple customers per minute. You can connect multiple payment terminals to the POS-system so your guests can pay simultaneously. Our robust and stable solutions are easy to use and reliable during hectic working hours when you need to focus on your customers.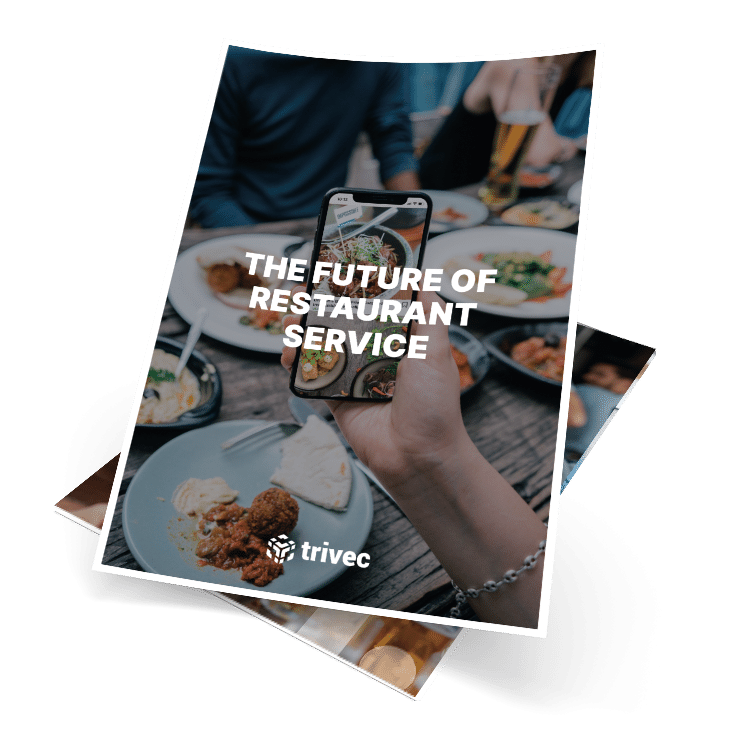 Increase the profitability of your bar
In our guide "The Future of Restaurant Service", you can discover how to increase the profitabiltity of your bar through new applications and marketing on social networks. Increase the level of service with a smooth ordering- and payment flow.
Increase your service with self-service mobile ordering
Mobile ordering is becoming more and more popular and with the COVID-19 situation it's important for a bar to be able to serve customers in a safe and effective way. We can offer you a solution called Trivec Buddy, where your guests scan a QR-code on the table, get directed to you online bar menu where they order and pay their drinks and food. The order goes to the bar and the kitchen and your waiting staff bring the drinks and food to your guests.
Take orders at the table
Trivec Handy is our digital solution for table ordering that makes it possible for bar staff to receive orders directly at the table. The order is sent  directly to the bar and kitchen. This way, the staff does not have to spend unnecessary time running back and forth between the tables and the POS system.
Go cashless 
To increase the speed of your service you can go cashless and use our voucher system. This will keep the focus of payments away from your bartenders and waiting staff and replace it to a general payment counter where your customer charges their cards. This will speed up the delivery and you get a nice added bonus that you can have personalized cards that customers can reuse each time they visit your premise.
Use self-service and set-up a beer wall
People like to interact with their purchase, and this is why DIY-styles where you can tailor your pizza, salad, shoes etc. are so popular. And you can do the same thing with beer. Build your own beer wall using our self-service dispensing system. Your guests will serve themselves paying for the amount they have poured in the glass.
Save thousands of euros with minimized wastage in the bar
By using one or multiple of our beverage solutions, you will keep track of the number of drinks you are pouring since every drink is tracked. You have real-time comparison of drinks served and drinks paid for. You will always pour the right amount with no spill or wastage, which increase the revenue. You can save thousands of euro yearly, depending on how big bar you have.
Get reports and insights from your bar or nightclub
When using our solutions, you get access to our web portal My Trivec, where you can customize the reports you like to have on a daily, weekly, monthly basis. You can set up to get sales report daily. Track what your customers are drinking and what your popular products are, so you know what to order and keep in stock.
Running multiple bars
We have many bar-and restaurant chains and have great tools and experience to help you manage multiple locations. With our HQ-tools you can centrally control all your venues from one central point. You can decide what authorization should be local and what should be controlled centrally. How the menus should look like and the prices. You can set up different reports to measure your different venues to be sure they are all profitable.  We will help you tailor the system, so it fits your needs.
Support and on call service 24/7
You have access to our support and on call service around the clock and our experienced support staff is always on hand to ensure that the your POS solution and bar automation work as they should. We can help you both remotely and on site.
Customers we are working with:
Contact us
After you have filled in your contact information, you will be contacted by one of our knowledgeable experts who can tell you more about our solutions.