Kitchen Display System
What is a kitchen display system?
Trivec Kitchen Display is Trivec's own product for kitchen and bar displays that integrate with our POS-system. In short, the system can be described as a digital replacement for kitchen printers, but that would be doing the displays a disservice – they are so much more than that.
Trivec Display is for everyone – regardless of size and processes
A kitchen display system will help you with so much more than saving paper (even though it is good for the environment!). Each restaurant is unique in its way and have different processes. Therefore, Trivec Display can be customized to meet your needs.
Sometimes we fall into the trap thinking kitchen displays are only for larger restaurants. Fact is that kitchen displays can be a huge advantage even for the smallest establishments. Regardless whether your goal is to reduce wait time, improve customer experience or challenge the kitchen staff's efficiency – a kitchen display system is the right choice for you.
Accurate kitchen deliveries
We know kitchens get busy. Take a breath – we will help you. Kitchen displays from Trivec will support you in a stressful environment and reduce the risk of mistakes, enhance the quality of food and service and help your staff keep track of orders by displaying:
Color coded orders

Prep status

Wait time

Priority listing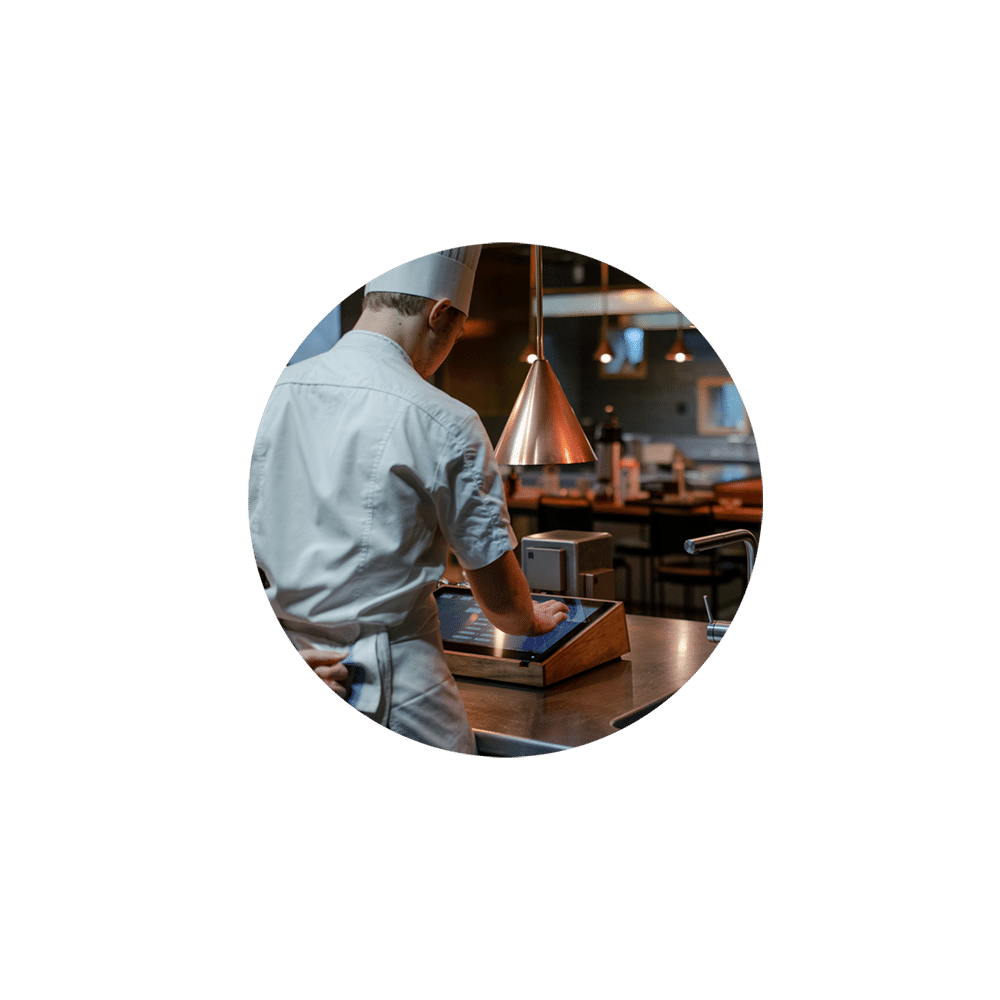 Let your chefs focus on what they do best – cook!
1.
Never miss an order – no kitchen receipts!
2.
Accurate kitchen deliveries – edits to orders on display
3.
Reduced stress in the kitchen – reliable system
4.
Data collection that will help define efficient processes
How does a kitchen display system work?
An order is entered into the POS system by a waiter
The order appears on the kitchen display showing the order. Drinks appear on bar display.
Order is marked as active when started.
Next dish will be active when next course is selected on the screen or POS system.
The process can be customized to fit your restaurant.
Integrations and administration
Once a dish is prepared, served and marked done on your display, it is never deleted. Instead it is moved to the historical data page. This way, it is easy to extract a report of a selected range of dates service. For example, how many of each dish were sold during a specific night.
Use the report as purchase order or integrate your Trivec POS and kitchen display to an inventory system.
Contact us
After you have filled in your contact information, you will be contacted by one of our knowledgeable experts who can tell you more about our solutions.