Open a restaurant
Get your restaurant checklist today!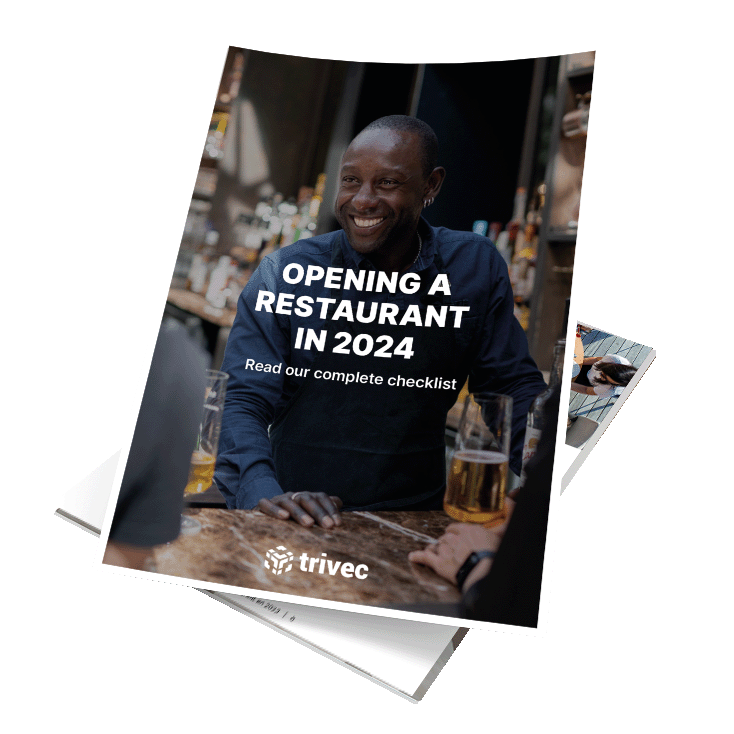 What does it take to open a restaurant
To open a restaurant is likely a long-time dream of yours, but it's important to keep that dream anchored. Not only in yourself and your social bubble, but also in numbers, hard work, and current and future trends. We've put this checklist together to help you succeed.
Get your restaurant checklist today!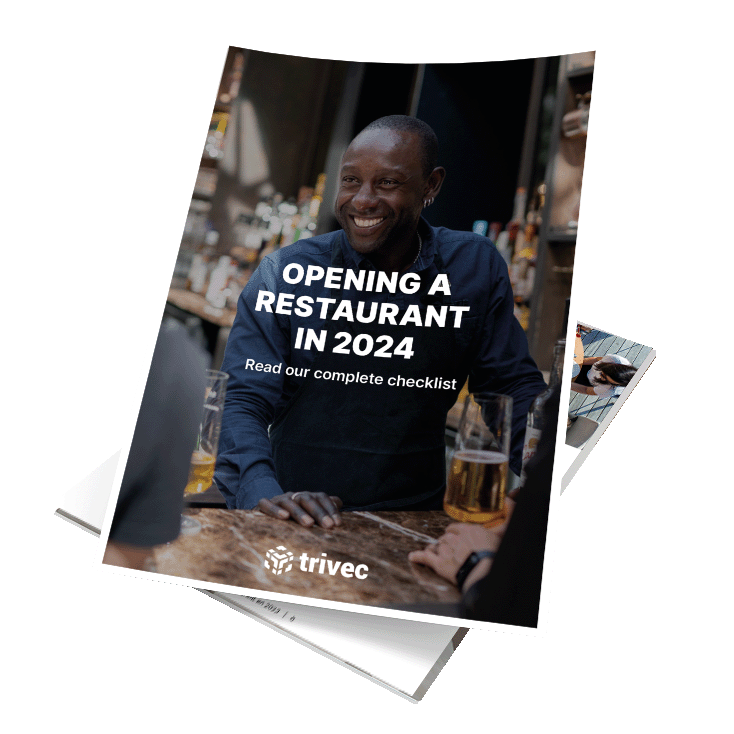 Chapter 1
When opening a restaurant you should clearly define your restaurant concept.
Chapter 2
Your business plan should be short and focused.
Chapter 3
Make sure you have established sound financial forecasts.
Chapter 4
The right equipment and technology will help you work smarter and more efficiently
Chapter 5
Finding the right staff is crucial to make your restaurant successful.
Clear restaurant concept
First off, when thinking about opening a restaurant, you should clearly define your restaurant concept. Such as the service style, price range, type of food and ambiance. Are you a high-end restaurant, casual service spot, or a sports bar? Consider ways to service customers who cannot or prefer not to dine in, such as take away and delivery.
Even if you think you know what your concept is, put it down in writing with as much detail as possible. Creating a mood board or a basic collage might help you get started.
As you develop your restaurant concept, don't forget to check out the competition. Do some research on what has already been tried and figure out which of these concepts work best, and why. That way you will be able to build on something that customers like and are willing to pay for. And turn it into your own. Also look at what's available in your immediate geographical area and try to find a gap in the market. Perhaps you've seen something on your travels that isn't yet available at home.
In parallel with your concept, you need a working brand identity. Restaurant branding communicates your restaurant's personality and identity and should include a mission statement that summarizes your goals and values. Branding increases loyalty while attracting new guests who are drawn to your brand through marketing.
Business plan
To have a business plan i key when to open a restaurant. Your business plan should be short and focused, and maximum two pages. And include the following: your restaurant concept, vision, values, key activities, offering, key resources, customer segments, sales channels, revenue, costs, and partners.
We have developed a template for a business plan that you can download here.
Is it profitable to run a restaurant?
Financing is important to solve out when to open a restaurant. You can finance your restaurant in several different ways; your own money, through collaboration with partners, finding investors or take out a loan through the bank. No matter what financing you will have, make sure you have established sound financial forecasts.
Permits for restaurants
Everyone who serves or sells food to the public has a responsibility to ensure that the food is safe to eat. It is important to find out what rules apply in your region regarding food and alcohol licenses, health regulations, fire safety, permits for outdoor dining and tax laws.
Many aspects of a foodservice operation are strictly regulated and subject to inspection. If you fail to meet regulations, you may face fines or getting shut down by authorities. You must also provide a safe environment in which your employees can work, and your guests can dine. Check with your local government to learn what applies specifically where you plan to base your business.
Equipment and technology to open a restaurant
Another crucial business aspect for any foodservice entrepreneur is securing a reliable source of equipment and ingredients at reasonable prices. Reach out to several different food wholesalers for the best quality-price mix considering your concept.
Calculate your food costs for your restaurant here.
At this stage, don't forget your restaurant technology arsenal. The game is changing, and new technology is a required tool for the future. Ordinary consumers have developed faster than the industry. The generations who grew up with the internet have come to expect convenience, personalized service, and speed in addition to great food. They won't even find you unless you meet them on their terms. If you spend your advertising budget on billboards, they are too busy looking at TripAdvisor to notice.
Right now, it's not just Millennials who are changing the game. Since the pandemic, all of us have had to rapidly change our behavior. That makes it even more crucial to choose a technical platform that can help you sell food in more ways than one. In a changed world, flexibility is key. It's more important than ever to look into multiple revenue streams.
The right technology will help you work smarter and more efficiently. With our POS-system, you can end the day with a few keystrokes instead of counting the revenue manually. We have integrations to bookkeeping systems, which automate this work task. It's important when you choose your technical suppliers, to look into automation and integrations. Can they offer you many different payment methods, mobile ordering, daily sales reports etc. To make your and your staff daily life easier.
Read how to increase your restaurant profit margin here.
Staff for open a restaurant
Your goal should be to hire experienced staff and build up a business culture with employee benefits and promotion opportunities that will reduce staff turnover. This is a challenge for any restaurant owner. One helpful strategy is to look at what duties can be automated. This will not only save staff costs but also lead to happier employees.
An integrated system that assists from order directly through to the back office has the potential to elevate the customer experience, reduce stress among staff and increase your profits. Making life easier for your employees means they have more energy left over to make customers feel appreciated.
Go to our blog post "How to succeed with the restaurant staff".
Contact us
After you have filled in your contact information, you will be contacted by one of our knowledgeable experts who can tell you more about our solutions.