5 restaurant trends restaurateurs can't ignore after the pandemic
Download your copy of the report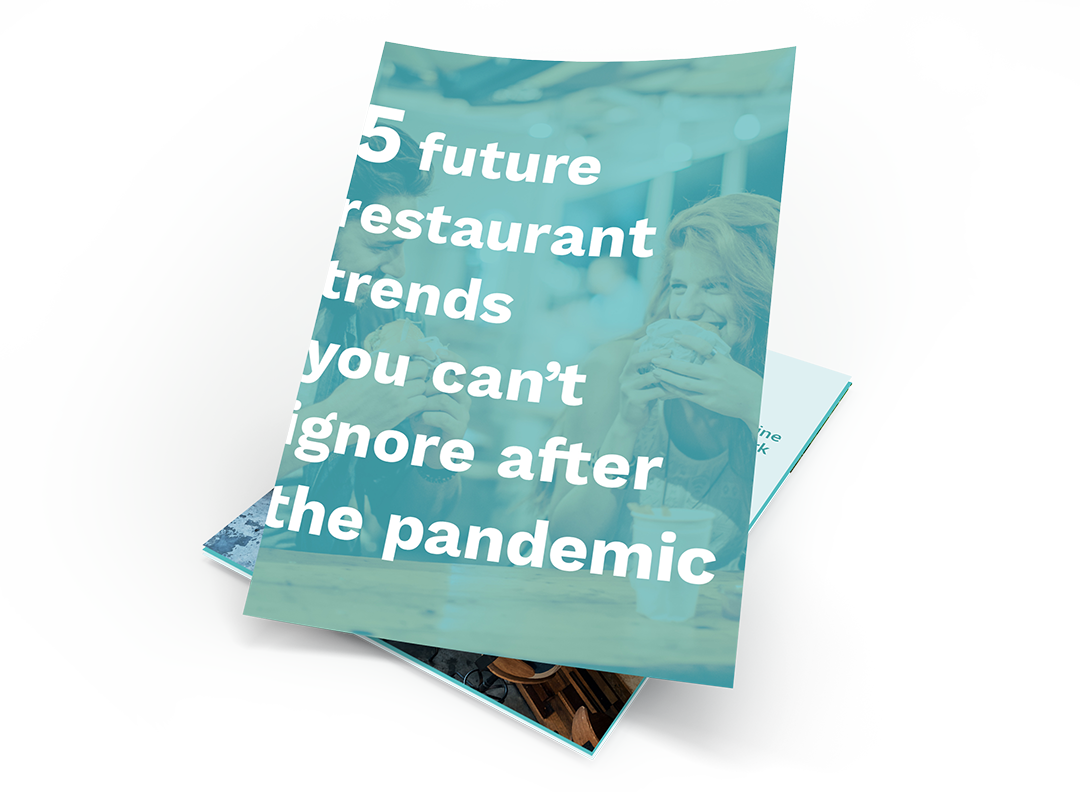 5 restaurant trends restaurateurs can't ignore after the pandemic
In this article we talk about 5 restaurant trends you can't ignore after the pandemic. Ask any restauranteur and they'll tell you the same thing. The industry is changing – and changing fast. Good food and friendly service will always be cornerstones in the foodservice industry, but it's just not enough anymore.
The global outbreak of the virus COVID-19 has had an immense effect on society. And for the foodservice business, more than anything it has sped up the pace of change that was already underway. We've combined our many years of experience in the hospitality industry with advice from experts in the global and European restaurant industry.
Here are the most important restaurant trends you need to know to survive and prosper in this new and exciting climate.
Download your copy of the report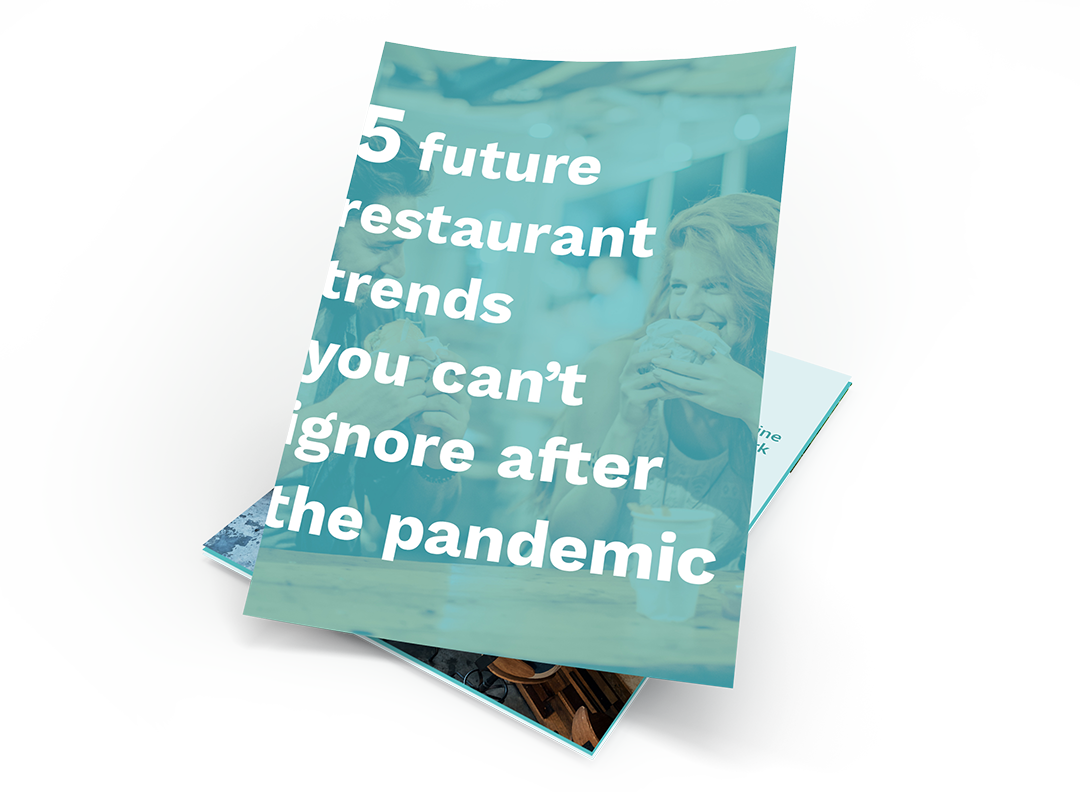 Restaurant trend 1
Customers want healthier and more sustainable options.
Restaurant trend 2
Convenience continues to drive purchasing decisions. Today's consumers are time-strapped, tech-savvy and value-conscious.
Restaurant trend 3
Technical solutions, such as online ordering and mobile ordering system, is becoming more and more popular.
Restaurant trend 4
Millennials and Generation Z will represent six out of ten people on the planet in 2020. Understanding who they are is absolutely essential.
Restaurant trend 5
Unique, personalized experiences and innovative food.
Health and safety for people and the planet
Customers want healthier and more sustainable options. As far as general health, one of the biggest emerging trends to watch is meatless protein satisfying consumer demands both in terms of personal health and environmental consciousness.
But customers are also no longer content to just accept the restaurant's claims of healthy and eco-friendly options – they are now demanding proof. According to Datassential, half of consumers today think it's important to consume food made with "clean label ingredients" and two-thirds also support menu labelling. The companies that will take the lead in the coming years will be those that take conscious consumption to the next level.
Make your food accessible
Restaurant trend number one is looking how convenience continues to drive purchasing decisions. Today's consumers are time-strapped, tech-savvy and value-conscious. They are accustomed to using technology to simplify their lives and they want their dining solutions to be just as fast, flexible and convenient as the rest of their purchasing decisions. Convenience is so important, in fact, that it was listed as a top dining-out concern by a full 82% of consumers surveyed in Mintel's Global Food and Drink Trends 2019 report.
And of course, one of the best ways to offer customers convenience is through food delivery or pick-up service. According to Restaurant Business Online, 86% of consumers use off-premises dining services at least monthly. Though still a small portion of total foodservice sales, delivery's 7% annual growth rate over the last five years makes it clear that this is a trend no restaurant hoping to survive the future can ignore.
Use available innovations
In restaurant trend number two we see how digital services will continue to expand. According to Restaurant Insider, in 2020, digital ordering and food delivery have grown 300% faster than dine-in traffic since 2014.
One of the easiest ways to incorporate technology into a restaurant is through the possibility of using mobile devices for ordering- and payment. You can also make it easier for the staff by providing digital tools that facilitate their everyday life. Read more about Digital Kitchen Display Systems and Mobile Devices for tableside ordering.
Technical solutions, such as online ordering and mobile ordering system, is becoming more and more popular. Deloitte reports that customer spend increases by 20% and repeat business by 6% when customers can use technology to place an order. Apps and online solutions also help your restaurant to attract new customers and increase the selling through personalized offers.
Bridge the generation gap
Restaurant trend number three looks at the younger generation. Millennials and Generation Z, that is, people currently under 35 years old, will represent six out of ten people on the planet in 2020. Understanding who they are and how they differ from previous generations is absolutely essential to any restaurant that wants to survive the coming decades.
The younger generations are hyperconnected and see technology not just as a means to simplify their lives, but as an integral part of their existence. Not only will they use technology to find a restaurant online, but they will also expect to be able to place their order via an app or POS system, arrange delivery through a third-party provider, and pay using their phone.
The restaurant they choose will also have a strong social media presence, and they will likely contribute to that presence by rating or uploading pictures and descriptions of their own dining experiences.
Millennials and Gen Z are healthier, more environmentally conscious, and more socially aware than previous generations – or at least they want their purchases to portray that image. Natural ingredients, less meat and, most of all, non-alcoholic beverage alternatives are key to bringing in younger consumers, who drink significantly less than previous generations.
Make yourself stand out
In restaurant trend number four we look closer into how you can stand out. Tomorrow's consumers will better understand their own personal dietary needs thanks to widespread access to different physical tests, collection of data and analysis. Companies that are able to help people act on their data and to offer custom food and drink will have a definite competitive advantage. Whether through innovative food, unique themes or DIY options, it is
clear that personalization and engagement is the way forward.
In The Restaurant of the Future, Deloitte reports that 70% of consumers look for apps that deliver personalized offers and convey the sense that a restaurant "knows them," and 40% of customers want to hear from a restaurant once a month or more. Secret menus, fast-track tickets to skip lines, backstage kitchen passes, customer feedback surveys and social media promotions are all ways restaurants can let their loyal customers know they are listening to them and value their business and input.
In a world increasingly dominated by digital screens, foodservice is one of the few industries left that can offer unique and memorable real-world experiences. And that is exactly what today's consumers are looking for in their restaurants. Outstanding staff, innovative food and concepts, DIY options, and a balance between personalized service and technology will be the things that make or break restaurants in the future.
Contact us
After you have filled in your contact information, you will be contacted by one of our knowledgeable experts who can tell you more about our solutions.