Scandinavian Resorts
High availability and local presence important when choosing POS systems
With 13 restaurants and bars, plus a range of resort facilities, Sälens Högfjällshotell is a modern classic in the Swedish mountains. Providing timely service to guests – and billing them –requires an effective payment solution supported by a vendor that is always within reach. Trivec has accepted the challenge from all "Högis" restaurants and their guests.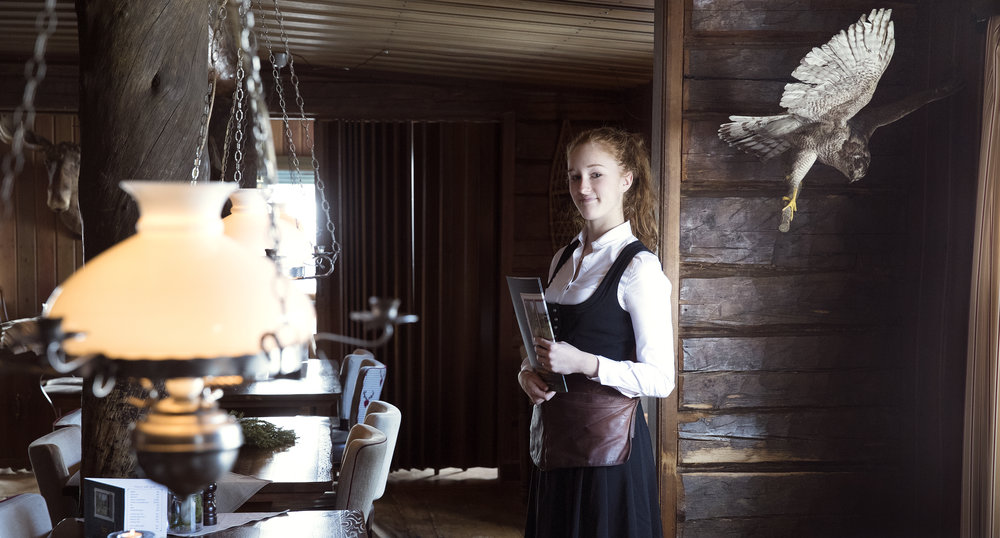 Högfjällshotellet, popularly called "Högis", is a classic tourist destination in the Swedish mountain range. And today, its appeal to guests comes from more than just the snowy slopes that surround the hotel. Established in the 1930s, "Högis" remains the heart of the Sälen Ski area, which ranks as the largest tourist destination in the Nordic region. The hotel has grown and evolved into a contemporary resort, with amenities that include a cinema, spa, and large conference and event facilities.
You find a large variety also within the traditional hospitality enterprise, with restaurants and bars. Today, there are 13 outlets using different concepts, from burgers offered to skiers to the Fine Dining room at the hotel.
Reliable, customised POS solution
To manage its broad enterprise in the most efficient way, Högfjällshotellet needs a reliable and future-proof Point of Sale solution. Since 2015, Trivec's POS-solution is used in restaurants, bars and other outlets at the resort. The installation also includes another Sälen establishment, Gammelgården.  The main impetus for switching to a new POS and billing system was that Högfjällshotellet needed a solution with a reliable vendor with local presence.
The most important factor was that Trivec showed a genuine interest and a commitment to making the POS solution work for us. We got a system customised for our needs, says Thommy Backner, CEO of Scandinavian Resorts, Högfjällshotellet's operating company
Scandinavian Resorts obviously also has functional and technical requirements, for instance involving productivity and user friendliness, but the most vital issue is that the system must work where and when it matters most – at the point of service, and when it's time to pay.
Integrations with hotel management and finance systems
Addressing Högfjällshotellet's rather sprawly environment and meeting all its requirements using a single platform was a challenge for Trivec. According to the staff, it turned out successful, and they point out the back- office functionality as a bonus, with tools that help them get a good overview of business operations.
Another fundamental requirement was that the POS solution should be compatible with, and could be integrated with other key IT functions – most importantly scheduling, which is part of the hotel management system, and finance applications.
Easy to use POS solution
Scandinavian Resorts wants a POS solution which offers ease of use for staff, preferably combined with a potential for streamlining hospitality operations. Capabilities with wireless terminals for ordering and payment is steadily improving and monitors are becoming increasingly useful. For instance, Högfjällshotellet has installed kitchen monitors for displaying orders, replacing conventional printed tickets.
Still, technology is never an end in itself. For a distinctly seasonal business as "Högis", it carries more weight that the POS solution is easy to use and quick to learn. During the winter, Scandinavian Resorts has a restaurant staff of 160, a large share of which are new employees who need to be onboarded and up to speed quickly. Personnel will frequently also transfer between units where cash tills are handled differently.
Local support provides security
During the high season, Högfjällshotellet is nearly a round-the-clock operation. This not only requires effective systems, but in real practise also depends on a supplier who responds when called upon. Trivec's ongoing contribution includes 24/7 support and training for staff to enable them to manage updates, such as renewing menu items in the system.
We feel secure  with Trivec, as they maintain a high level of availability which we were previously missing. There is always someone there to answer when we call , and we get attention for the issues we raise," says Thommy Backner.
Scandinavian Resorts
Scandinavian Resorts operates Sälens Högfjällshotell ("Högis"), established 1937, and Gammelgården Hotell & Restaurang, with a legacy dating from the 17th century. The resort is a world of experiences, including 13 restaurants and bars, cinema, spa, gym, ski rental, sports shop, concierge and conference facilities with space for 800 guests. More than 30 large events are staged annually at "Högis". Altogether, Scandinavian Resorts offers 1,800 guest beds at Sälens Högfjällshotell, tourist apartments and Gammelgården Hotell & Restaurang.
About Trivec
Trivec is a leading supplier of POS systems to restaurants, bars, hotels and cafés on the European market. Our solutions simplify business operations and optimize payments. Trivec's product offering includes cash registers, card terminals, handheld units, kiosks and beverage systems, with flexible integrations to booking, finance, personnel, purchasing and storage systems. Founded in 1993, Trivec has over 8,000 customers around Europe and offices in Sweden, Norway, Denmark, Belgium and France.
Contact us
After you have filled in your contact information, you will be contacted by one of our knowledgeable experts who can tell you more about our solutions.