Versuz
Versuz
Versuz is a well-known name in Hasselt and far beyond. The popular nightclub has been more than just one hospitality business for years. Besides the dance club, the Ipanema summer bar, the Moose winter bars – with several different locations in Flanders – and the restaurant Crudo are also amongst their realizations. Furthermore, they regularly organize B2B-events.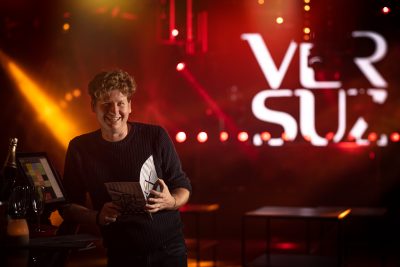 So, it's a thriving business, with a considerable number of drinks served and payments made every day. To make sure that all of this runs smoothly, they always count on their POS system from Trivec.
A comprehensive bar system
Thijs Berben, Executive Managing Director of Versuz: "When we were searching for a POS system years ago, we quickly found Trivec, As a market leader in POS systems for the hospitality industry, we thought Trivec was the absolute best option for our business. And because of the size of our operations, this type of POS has become indispensable for us.
On a typical Saturday evening, Versuz can quickly reach 10,000 transactions. You might think that, with such a large number of transactions, mistakes can easily be made. But not when you're using an automated system.
The bar automation is very convenient. With a special cap with solenoid valve, every bottle is registered and checked. This way we can perfectly see at the end of the day how many drinks we have served and charged. So basically our staff can never pour more glasses than there have been paid for. So it's a comprehensive bar system.
Fast payback
When Versuz moved a couple of years ago, they used the opportunity to update the POS system to the latest version.
I would recommend Trivec with bar automation included to every beginner in the hospitality business, especially if you own a bar. As a beginner it might seem like a big investment, but in about a year's time you'll have earned it back. You would be baffled by how many drinks remain unpaid for otherwise. Thanks to the automation you're not missing out on that income.
Contact us
After you have filled in your contact information, you will be contacted by one of our knowledgeable experts who can tell you more about our solutions.