Trivec partners with Deliverect to integrate all food delivery apps
February 11, 2020
Trivec POS solution now offers integration with popular food delivery services, eliminating the need for restaurants to re-enter each order manually.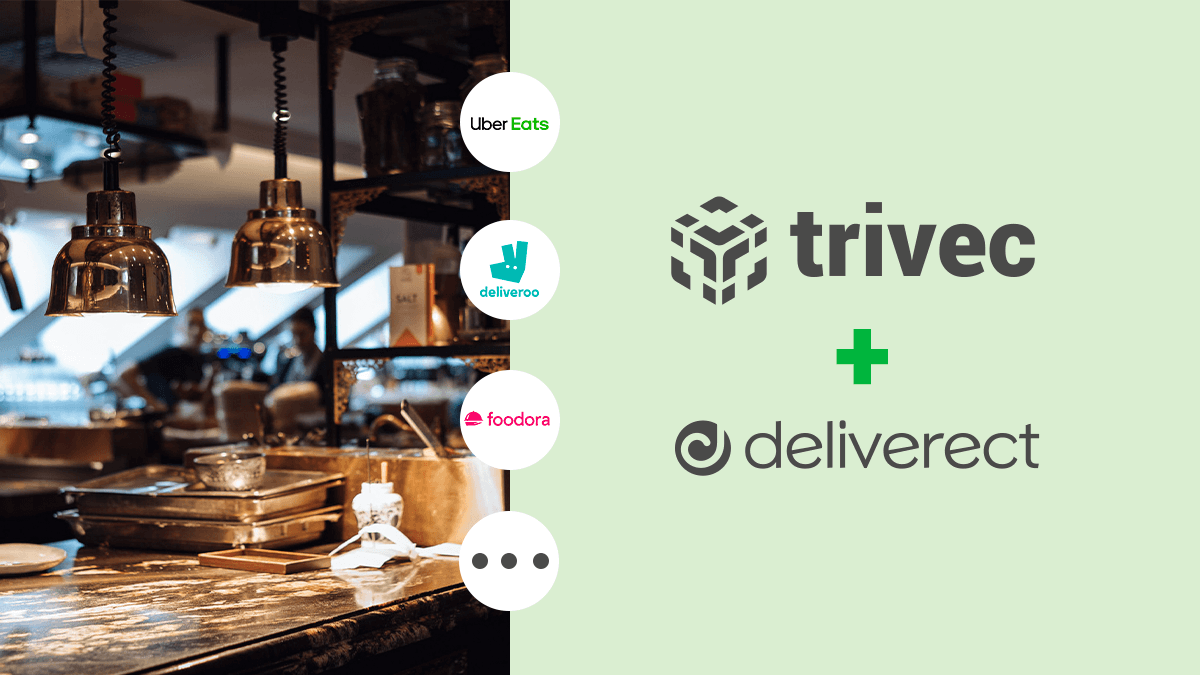 Trivec, market-leading supplier of POS solutions for the hospitality industry, introduces a new additional service for managing orders from popular food delivery apps, including Uber Eats, Glovo and the Delivery Hero brands. This new offering is the result of a partnership between Trivec and Deliverect, a fast-growing software startup based in Ghent, Belgium. Deliverect's gateway software enables integration of all popular food delivery apps and connecting these with restaurants' POS system.
Through this partnership, Trivec supports a direct connection from the app where customers place their orders to the POS system and the kitchen. The restaurant is relieved from most manual labour involved with managing delivery app orders, while customers benefit by having their meals delivered even faster.
Our partnership with Deliverect is about real-world digital transformation. Restaurants want to work with all food delivery apps, as these bring new business opportunities. The downside is the risk of increasing staff workload – at times when restaurants are already extremely busy serving their guests. We enable smooth, efficient handling of online orders. An order placed by the customer using a delivery app does not have to be re-entered manually and the kitchen can have everything ready when the delivery courier arrives.
– Henrik Larsson, Chief Product Officer at Trivec.
Jan Hollez, co-founder and CTO at Deliverect says:
Food Delivery is here to stay. The customer expects instant gratification, just like for music, movies and online shopping, they want to click a button and have what they want delivered now. This means delivery is going to be an ever bigger part of a restaurants revenue and thus seamless integration with the POS is vital. With its vast experience in the point-of-sales industry, Trivec has a very mature product. This enabled us to create a seamless integration with Deliverect, while further optimizing the delivery workflow at the same time.
The new service also facilitates systems management and restaurant's record keeping, as it supports practically any food delivery app through a single platform. It's easy to get started with the solution, which is cloud-based and delivered as a service for a fixed monthly fee. The integration with Trivec's POS system means that it can be implemented with no impact on the restaurants' IT platform, and the entire solution is covered by Trivec support.
For questions and further information, please contact our local offices:
About Trivec
Trivec is a leading Point of Sale technology provider to the European hospitality market. Our solutions help optimize payment and facilitate operations management for restaurants, cafés and hotels. Trivec's broad software and hardware offering includes cash registers, card payment terminals, handheld devices and beverage dispensing systems, with flexible options for integration with booking, finance, personnel, purchasing and inventory functions. Founded in 1993, Trivec locally serves more than 7,000 customers from offices in Sweden, Norway, Belgium and France.

About Deliverect
Deliverect is a SaaS company that simplifies online food delivery management for restaurants. The software integrates the restaurants' online delivery channels, such as UberEats, Glovo and Deliveroo, into one platform, making rekeying orders and the costly errors that come with it a thing of the past. With all online orders centrally managed, real-time reporting and stock management are now also possible. This automation ultimately results in better operational service and increased customer satisfaction. Headquartered in Ghent, Belgium, Deliverect was founded in 2018 by entrepreneurs Zhong Xu, Jan Hollez and Jelte Vrijhoef. Among its customers are the restaurant chains Absurd Bird, Goiko Grill, Lucy Chang and Yoobi.
Visit www.deliverect.com for more information.