Brödernas
Simplicity is key when Brödernas grow with Trivec
The successful concept of the new, rising star on the Swedish restaurant market are ingredients of finest quality and an amusing atmosphere. Currently found in Stockholm and Visby, Brödernas aim to open 20 new restaurants across the country within the next few years.
Transitioning to Domino
The new chain was founded in 2018 by the brothers Jonas and Joakim Wiklander. The name of the restaurant originated from the two brothers, which also significates the sames as Brödernas means The Brothers' in Swedish. Their business idea and concept is simple: high quality burgers and pizza, a friendly and inviting atmosphere and a welcoming bar.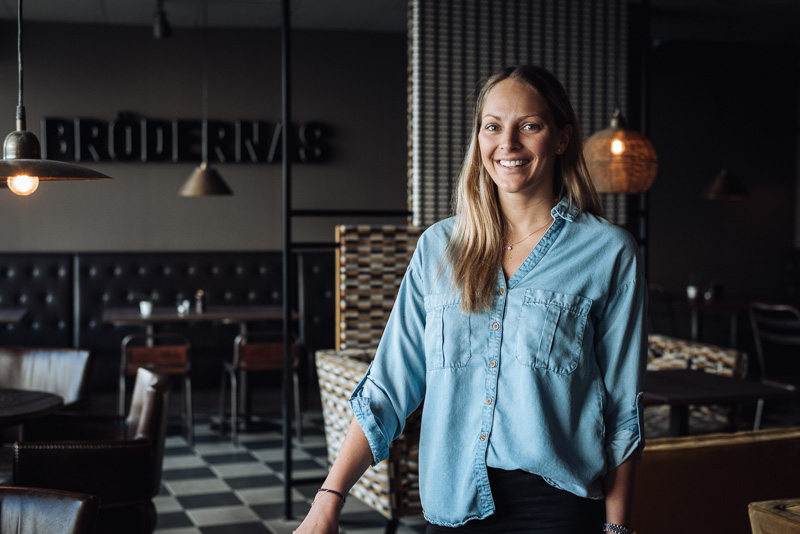 As part of the restaurant group BankOMat, Brödernas and Trivec has history together – even though the food chain is brand new. Brödernas newest location in Sickla, Stockholm, will be the first of BankOMat's restaurants to use Trivec Domino. Domino is the new Trivec plattform. This is the first step towards transitioning all BankOMat Group-owned restaurants to the new plattform.
Streamlining our business makes it easier for our staff to work at all locations, since the routines and systems all have the same setup. It also simplifies opening new restaurants, says Nikita Jönsson, store manager at Brödernas.
Digitized cash reports
Switching to Domino won't be difficult for our staff. It's mainly a question of getting used to some added functionality, Nikita explains. The biggest difference that we have noticed so far are the digital cash reports.
– We are saving a great amount of time by using digital cash reports instead of hand-written reports on a daily basis. Another key advantage that saves us time is that the owners, or myself, can login to see sales numbers in real time.
Nikita estimates that digitizing the cash reports saves them about 1 hour of administration each day the restaurant is open for business. If counted upon the numbers add up quickly. If one counts the amount of time saved for all 4 units and multiply it by the number of working days over a year and the hourly salary for a waitress – the numbers will speak for themselves. Digitizing the cash reports makes a huge difference. And since Brödernas are rapidly expanding – the numbers keep going up.
Example
Saving: 1 hour/day
Number of units: 4 units
Average salary: £7.00/hour
Restaurant is open: 300 days/year
1 * 4 * 7 * 300 = £ 8 400 savings per year, simply from digitizing the cash report.
Clear and simple
– Our main priority is having a simple POS system, which is exactly what Domino is. It works great. The table mapping is fantastic, and the system provides a clean overview of all the items we offer. It's also simpe for us to make changes. Trivec's support team deserves credit as well. We are very satisfied with the help we get, Nikita adds.
All of Brödernas' restaurants have at least two cash tills with integrated, portable payment terminals, allowing them to provide remarkable service and the back office administration is mainly handled by the BankOMat Group. Additionally, Brödernas take advantage of the many possible integrations and add-ons and has integrated the workforce management tool Personalkollen, which administers staff schedules and salaries.

– Being able to access back office to make changes to schedules and menu items from anywhere is a game changer. If a managing staff member, like myself, isn't at the restaurant, I simply just login on my computer and make edits from home, or anywhere. Easy-peasy, says Nikita.
Brödernas need simplicity to meet today's customer expectations. When taking orders, serving tables and collecting payments. Everything needs to be simple, run smoothly and be correct.
– We love that we now get numbers on the receipts, which makes it easier to keep track of which order is which. We enjoy the simplicity of keeping track of tables and orders, but also being able to split checks, which often is requested during lunch hours, Nikita establishes with a smile.
About Brödernas
Brödernas was founded in 2018 and currently consist of four restaurants, three in the Stockholm area and one in Visby, Gotland. The restaurant chain is part of the BankOMat Group, which also have restaurants in Stockholm, Örebro and Lofsdalen. Brödernas are aiming at opening at least 20 new restaurants within the next few years.
About Trivec
Trivec is a leading supplier of POS systems to restaurants, bars, hotels and cafés on the European market. Our solutions simplify business operations and optimize payments. Trivec's product offering includes cash registers, card terminals, handheld units, kiosks and beverage systems, with flexible integrations to booking, finance, personnel, purchasing and storage systems. Founded in 1993, Trivec has over 8,000 customers around Europe and offices in Sweden, Norway, Denmark, Belgium and France.
Contact us
After you have filled in your contact information, you will be contacted by one of our knowledgeable experts who can tell you more about our solutions.