Berns Salonger
Berns Salonger
Since 1863, Berns has been open for dining, dancing and festivities in breathtaking venues, serving food and beverage of absolute to class, with great service and stunning details. Restaurant manager, Anna Lundblad, invites us to the world of Berns by letting us in on the building's history, grand jubilee, as well as how Trivec has been and will continue to play an important role in the daily business.
39 cash tills divided between restaurants, bars and a hotel

80+ portable payment terminals

2+ hrs saved on a daily basis from using digitized tip management & cash reports
The remarkable story of Berns
The foundation for Berns today was laid in 1863 on one of the most attractive addresses in Stockholm with views over the beautiful Berzelii Park and the Baltic Sea. The grand building was built for Heinrich Robert Berns, a confectioner and chef, and the doors opened for the first time 1st of August 1863 to curious restaurant guests anxious to experience the grandness of Berns.
In the beginning, Berns consisted of one sole venue. Today, however, Berns consists of several restaurants such as Isaan' and Calle P, as well as event and conference venues, a hotel, and bars. Many extensions have been added throughout the years, and the hotel at Berns just celebrated 30 years in business.
The Chinese inspiration is said to derive from the China Theatre. A group of Chinese jugglers had just finished their performance at the theatre and didn't want to travel back to China just yet. They wished to stay in Sweden. Berns hired them as chefs, and preserved the inspiration brought in by the Chinese jugglers. One could say it's deeply rooted in the venue.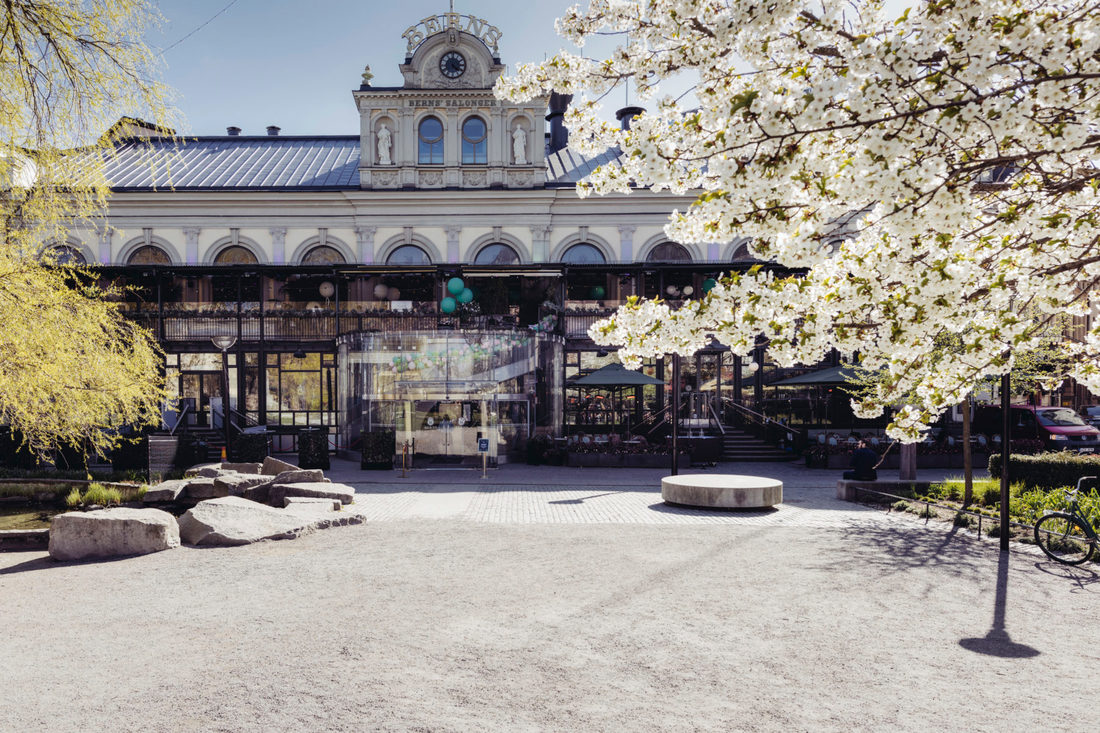 Realized the need for a new POS system early on
In 2017 when Anna took on her new role as restaurant manager for Berns she realized the need to invest in a new POS system. "The previous supplier struggled to get integrations to work properly, and we had to put a lot of time into manual work – such as staffing and cash reports", Anna says.
"Some of the necessary functionality was missing, like customizing reports for example. As a restaurant manager, with budget responsibilities, it's hard to investors and owners any real data and on how the restaurant is performing if you can't access the numbers."
The job as a restaurant manager at Berns consists of a few parts. Running the daily operations and making sure the staff is well and ready to work. Optimize and maximize. Therefore, it was time to find a new supplier to support Anna on a daily basis.
Trivec Domino, a perfect fit for Berns
My previous experiences with Trivec made me invite them to have a conversation", Anna says. "The system is very intuitive, and even though a few staff members haven't worked with the system before they are up and running in no time".
I didn't need to compare to anyone else, I knew right away that Trivec was a perfect fit for Berns.
Anna didn't have previous experience from Trivec Domino, which is the newer Trivec platform. "I was pleasantly surprised by Domino. A few years has passed since I last used Trivec, which most likely was to my advantage, thinking it would all be the same, but Domino really exceeded my expectations."

The missing integrations
1. Staffing/workforce management
Managing the staffing takes a great amount of time if done manually. And the previous solution forced the staff to put a great many hours into solving staff and tips on a daily basis. Additionally, Berns is a quite large organization with 150 full-time employees, and about 200 part-time.
The staffing integration to Trivec works impeccably. It's super simple to identify the amount of staff needed since it's connected to the POS system.
Since Berns is a cash free business, they take advantage of the functionality and integrations that Trivec provides for tip management and payments. Since the staffing system is integrated with Trivec Domino, the tips are calculated by rules decided by the business themselves. Maybe different parts of the staff should have a different procentage. You can setup customized rules to fit your business and make sure the split is fair. Without having to put a single minute into the process as soon as it's setup.
2. Digitized cash reports
The same way as Berns use the tip management integration, they also save a great many hours daily by using the digital cash reports.
In total, Berns has 39 cash tills, and 80+ integrated, portable payment terminals divided between the different restaurants, bars and the hotel. In combination with digitized tips management the restaurant saves about 2+ hours daily. That equals many hours in a year.
3. Customized reports
When Anna Lundblad started working as the restaurant manager at Berns it soon became very clear that customized reports were needed to prove the performance and results of the business' daily operations. The reports Anna needed to prove the performace of her part of the venue, the restaurants, existed but could not be adjusted to fit the needs of Berns.
"I love being able to create new, specific reports for different purposes. This feature was missing, and it was critical to get it in place. It's one of the reasons why we had to find a new supplier" Anna claims. "In Trivec I can create the reports I need, and they are different for different units".
The BackOffice functionality for Trivec Domino provides the features that were missing, the customized reports that were wanted and needed when reporting to owners and other stakeholders.
Trivec's support team earns a golden star
Anna says that one of the most determining factors as to why she chose Trivec is the support team.
"The support team is amazing. They always pick up, and the delivery is always personal and quick. They are always available and ready to help" Anna says about Trivec's support, which is available 24 hours a day, including the duty on-call during weekends and nighttime.
"One thing I greatly appreciate about Trivec is that everyone there understands our daily struggles and challenges. Every support representative has experience from the restaurant business and speak our language."
Berns & Trivec in the future
Anna expresses that the collaboration with Trivec will continue to be close. "Sometimes it feels like I'm working for Trivec, or that they work at Berns as if we were colleagues. It's unique. You have each other's backs at all times."
To Berns, and Anna, Trivec is so much more than a simple supplier. Instead, she talks about Trivec as a partner to Berns, and says she hopes the bond grows stronger moving forward.
You can always trust Trivec.
About Berns
The foundation for Berns today was laid in 1863 on one of the most attractive addresses in Stockholm with views over the beautiful Berzelii Park and the Baltic Sea. The building, consisting of one single venue at the time, opened up for the public on August 1st the same year. Since then, extensions have been added to the building, and remodeling has allowed to more venues such as conference and event rooms, night clubs, bars and a hotel. Berns is owned by Stureplansgruppen.
75th Anniversary in 2019
For many years, Berns' venues were empty, and the beautiful windows of the building were all covered. The building was decaying. However, during the early 1900s Berns was restored to its old glory, which is what we get to experience when visiting the extraordinary venues today.
Anna Lundblad lets us in on the 75 year anniversary event that was celebrated in February this year. She had recovered one of the original menus from a hidden place at Berns, and during one of the jubilee days – this was the menu people would order from. Original prices remained the same as in the early 1900s. The desserts were the most expensive and the prices would range from 3—5 Swedish Krona (SEK) – which was considered expensive back in the days. "The dishes cost about 1 SEK – so the sales weren't high on that day", Anna laughs.
About Trivec
Trivec is a leading supplier of POS systems to restaurants, bars, hotels and cafés on the European market. Our solutions simplify business operations and optimize payments. Trivec's product offering includes cash registers, card terminals, handheld units, kiosks and beverage systems, with flexible integrations to booking, finance, personnel, purchasing and storage systems. Founded in 1993, Trivec has over 8,000 customers around Europe and offices in Sweden, Norway, Denmark, Belgium and France.
Contact us
After you have filled in your contact information, you will be contacted by one of our knowledgeable experts who can tell you more about our solutions.