Slagthuset MMX
Slagthuset MMX restarts with Trivec Buddy
In an old slaughterhouse from the early 20th century, located in the heart of Malmö, you will find Slagthuset MMX. In the 9,000 sqm large building, there is plenty of space for conferences, concerts, theater performances, fairs and a grand lunch restaurant. The building's history is reflected in the old, inspirational premises and provide space for over 2,000 people. Despite its unique charm and capacity, the prevailing pandemic has hit Slagthuset hard and they have lost a lot along the way. But after a tough spring and summer, they are now opening the gates again and are looking forward to an exciting fall season.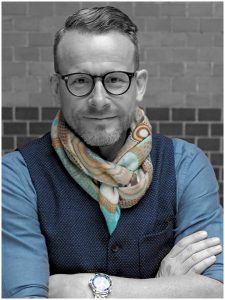 Stellan Colt is the CEO and runs Slagthuset since three years, but has worked there for seven years. Normally, Slagthuset has 15 full-time and up to 50-60 part-time employees. But, lately the numbers have been lower as they were forced to close the establishment during the summer. However, four weeks ago the lunch restaurant was reopened for hungry guests.
It is magical to see that so many of our regular guests have found their way back to us, Stellan says.
New setup with Trivec Buddy
This fall, Slagthuset plans to restart their popular pub shows again – or "pub with a show", as they call it. New for this year, in addition to the reduced number of seats, is Trivec Buddy. When the opportunity to use mobile ordering and payment arose, the decision was easy for Stellan.
We are simply trying to adapt to these strange times. When I first heard about Trivec Buddy, I thought that it was a perfect opportunity for us to try it. People can stay in their seats and order drinks themselves through their mobile phones, and by doing so, avoid overcrowding the bar.
During previous pub shows, Slagthuset has welcomed around 950 seated guests. This year they will only have 300 available seats. All tables will be separated and they will only allow tableside service. To simplify for both guests and staff, they will use Trivec Buddy. Guests avoid crowding the bar and the staff can focus more on safety and service.
Besides pub shows, they hope to be able to arrange last year's huge success: a large beer festival. 100 breweries from all over Sweden come together and guests can parttake in a magical beer party. This year, however, the concept will be reversed.
Instead of letting visitors roam the area and explore the different breweries, we will have assigned seating for our guests, where they can order beer via Trivec Buddy. As a substitute, we might let the breweries take the stage to introduce themselves. The concept is completely reversed compared to last year's successful event, says Stellan.
Trivec – the perfect choice
Trivec has been a part of Slagthuset since Stellan started working there. The choice to continue to use Trivec when he took over was easy. Additionally, at the turn of the year, he decided to invest in brand new hardware.
The collaboration with Trivec has been tremedous, and we are very satisfied. I have great connection with Trivec. I truly believe that Trivec Buddy will help us in the future, Stellan says.
Planning the future in uncertain times
Despite big plans for the fall, the future feels uncertain for Slagthuset. Stellan's emotions go up and down when he thinks about the future. But, he tries to think positive thoughts and rely on his hope.
I think people are really eager to meet and see each other again. Our building is built to host big meetings, fairs and concerts. I am absolutely sure that it will all come back at some point in time, but that it will take longer than we first anticipated.
If everything works out with Trivec Buddy at the pub shows and the beer festival, Stellan is opportunistic that Slagshuset can expand the service to more business areas.
We have a large theater with 1,000 seats where we usually offer ordering of food and drinks during the breaks. Once we get Trivec Buddy in place, we hope to be able to use it there as well to increase sales. If it works well, we will be able to cut staffing costs, among other things, says Stellan.
Stellan's advice to others who are experiencing the same situation is to try to think new and positive. The prevailing situation brings new kinds of possibilities. If your establishment has large rooms, made for many people, for example. Either the rooms will serve to reinforce social distancing by eliminating the risk of it being crowded, or you can reuse the surface for something else in the meantime.
I am actually renting out one of our larger rooms for Covid-19 antibody testing, which could be considered quite ironic, Stellan says.
About Trivec
Trivec is a leading supplier of POS systems to restaurants, bars, hotels and cafés on the European market. Trivec's product offering includes cash registers, card terminals, handheld units, kiosks and beverage systems, with flexible integrations to booking, finance, personnel, purchasing and storage systems. Founded in 1993, Trivec has over 8,000 customers around Europe and offices in Sweden, Norway, Denmark, Belgium and France.
About Trivec Buddy
Buddy is a mobile, web based product for ordering and payment that enables your guests to order from a digital meny and be served at the table (or through pickup) simply by scanning a QR code. Simply put, the perfect complement for regular table-side service.
Contact us
After you have filled in your contact information, you will be contacted by one of our knowledgeable experts who can tell you more about our solutions.